&nbsp&nbsp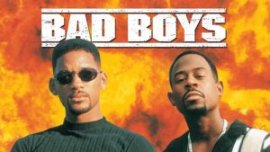 Description | Information (i):

Show or Hide Description


Bad Boys (1995)




Michael Bay

Stars: Lisa Boyle, Will Smith, Martin Lawrence, Michael Taliferro, Emmanuel Xuereb, Marc Macaulay, Ralph Gonzalez, Vic Manni, Frank John Hughes, Mike Kirton, Will Knickerbocker, Theresa Randle, Tiffany Samuels, Cory Hodges



Action, Comedy, Crime

Country: USA



1995



119 min - Rating: 6.9



Marcus Burnett is a hen-pecked family man. Mike Lowry is a foot-loose and fancy free ladies' man. Both are Miami policemen, and both have 72 hours to reclaim a consignment of drugs stolen from under their station's nose. To complicate matters, in order to get the assistance of the sole witness to a murder, they have to pretend to be each other.