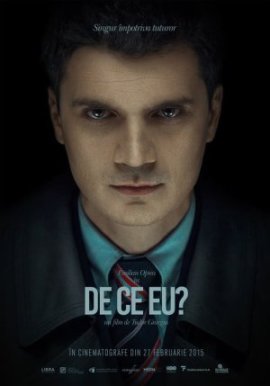 &nbsp&nbsp


Description | Information (i):

Show or Hide Description

RELEASE DATE: 20/08/2019
AiR DATE: xx/xx/2015
SiZE: 3.88 GiB
CONTAiNER: ts
RUNTiME: 02:06:23
GEnRE: Drama, Thriller
AUDIO: AC3 5.1 Ch. 384 kbps 48.0 KHz
S0URCE: WEB-DL
BiTRATE: 4 396 kb/s
RESOLUTiON: 1920x1080
FRAME.RATE: 25.000
LANGUAGE: Romanian
Subtitle(s) : English , Romanian

RO:

Bazat pe fapte reale, De ce eu? spune povestea lui Cristian (Emilian Oprea), un tanăr procuror idealist care încearcă să rezolve un complicat caz de corupție în tumultuosul context social-politic din România anilor 2000. Cristian investighează cazul unui coleg procuror suspectat de luare de mită, fals și uz de fals, sustragere de documente. Ancheta are însă implicații la nivel extrem de înalt și îi spulberă tânărului magistrat încrederea în justiție. Încercînd să descopere adevărul, Cristian intră într-o zonă periculoasă și se expune unor revelații dureroase și neașteptate.

EN:

Cristian, a young idealistic prosecutor whose career is on the rise, tries to crack a case against a senior colleague accused of corruption. The dilemma of choosing between his career and the truth weighs heavily on his shoulders. Looking further to solve the case, he enters a danger zone paved with unexpected and painful revelations.