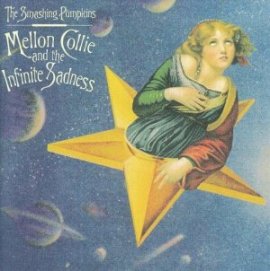 &nbsp&nbsp


Description | Information (i):

Show or Hide Description

The Smashing Pumpkins - Mellon Collie and the Infinite Sadness (1995) [24.96 FLAC] vinyl

Genre: Rock
Style: Alternative
Source: Hut Recordings HUTTLP30 Original UK Pressing vinyl
Codec: FLAC
Bit rate: ~ 2,900 kbps
Bit depth: 24
Sample rate: 96 kHz

Rip info (ripped by pbthal)

VPI Scoutmaster with thread driven single flywheel motor
Trans-Fi Terminator T3 Pro With Tomahawk Armwand (4N Silver Shielded Wire)
Audio-Technica AT33PTG/II
Phoenix Engineering Eagle
Phoenix Engineering RoadRunner
Gingko Cloud 12A Vibration Control Platform
Eastern Electric MiniMax Tube Phono Preamp
with Genalex Golden Lion Reissue ECC83/B759
Parks Audio Budgie CM1254 SUT
RME ADI-2 ADC

The Smashing Pumpkins didn't shy away from making the follow-up to the grand, intricate Siamese Dream. With Mellon Collie and the Infinite Sadness, the band turns in one of the most ambitious and indulgent albums in rock history. Lasting over two hours and featuring 28 songs, the album is certainly a challenging listen. To Billy Corgan's credit, it's a rewarding and compelling one as well. Although the artistic scope of the album is immense, the Smashing Pumpkins flourish in such an overblown setting. Corgan's songwriting has never been limited by conventional notions of what a rock band can do, even if it is clear that he draws inspiration from scores of '70s heavy metal and art rock bands. Instead of copying the sounds of his favorite records, he expands on their ideas, making the gentle piano of the title track and the sighing "1979" sit comfortably against the volcanic rush of "Jellybelly" and "Zero." In between those two extremes lies an array of musical styles, drawing from rock, pop, folk, and classical. Some of the songs don't work as well as others, but Mellon Collie never seems to drag. Occasionally they fall flat on their face, but over the entire album, the Smashing Pumpkins prove that they are one of the more creative and consistent bands of the '90s.