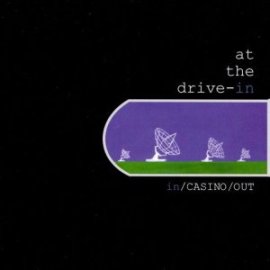 &nbsp&nbsp


Description | Information (i):

Show or Hide Description

At the Drive-In - In/Casino/Out (1998 ) [24.96 FLAC] vinyl

Genre: Rock
Style: Post-Hardcore
Source: Fearless Records F034 vinyl
Codec: FLAC
Bit rate: ~ 2,900 kbps
Bit depth: 24
Sample rate: 96 kHz

01 Alpha Centauri
02 Chanbara
03 Hulahoop Wounds
04 Napoleon Solo
05 Pickpocket
06 For Now..We Toast
07 A Devil Among the Tailors
08 Shaking Hand Incision
09 Lopsided
10 Hourglass
11 Transatlantic Foe

Rip info (not my rip)

Turntable: Rega RP1 w/ Ortofon 2M Blue cartridge
Phono Pre-Amp: Cambridge Audio Azur 551p
Cables: Stereo RCA L/R plugs > 1/8" Stereo mini-jack
Soundcard: Creative Sound Blaster Live! SB0410

Raw energy in both performance and music has not recently been captured by a band quite the way At the Drive-In does. Anyone who has experienced their live show knows just what this five-piece rock/punk/emo band from Texas is capable of. The music takes a lot from driving melodic punk riffs, meshed together with quieter interlocking note-picking. With the catchy yet powerful music comes extremely forceful, heartfelt, and intense vocals that you can just feel the passion exploding from. Lyrics are often abstract and personal, but not too far gone. This is a must-have for just about anyone -- if you buy it and aren't fully amazed, just go see them live and the album will take on an entirely new meaning for you.

Combining emotional melodies and upbeat rhythms moving at an unpredictable rate, At the Drive-In definitely stuck out in their hometown of El Paso, Texas. Formed in early 1994, the group debuted soon after with its first EP, Hell Paso, followed by a brief tour across the Lone Star State. With a lineup secured by Cedric Bixler (vocals), Omar Rodriguez-Lopez and Jim Ward (guitar), Paul Hinojos (bass), and Tony Hajjar (drums), At the Drive-In released a second EP, Alfaro Vive, Carajo!, and toured mostly empty houses and clubs across the western United States. A small gig in Los Angeles -- with an audience consisting of only nine people -- somehow got the attention of Flipside Records, which released the band's first full-length, Acrobatic Tenement, in 1996. With constant energy and a stubborn enthusiasm to continue, At the Drive-In began to develop an audience, helped out by constant touring and word-of-mouth hype. Their 1997 follow-up EP, El Gran Orgo, had more of a melodic bite, but their musical depth and originality remained. In/Casino/Out followed in 1998, and 2000 saw the release of Relationship of Command.

In 2001, the band went on indefinite hiatus. Bixler and Rodriguez-Lopez formed the Mars Volta, while Ward, Hajjar, and Hinojos moved on to Sparta. By May 2005 that hiatus looked pretty permanent, with both Sparta and the Volta's careers thriving and At the Drive-In issuing a retrospective compilation. This Station Is Non-Operational, released through Fearless domestically, included hits, rarities, cover songs (Smiths, Pink Floyd), and DVD content. In 2012, seemingly out of nowhere, the bandmembers announced that they would be reuniting and performing at the Coachella Festival that April. They went on to perform at a handful of other festivals that year, and reissued their first three albums on their own label, Twenty-First Chapter. In 2013, the Mars Volta dissolved, leaving the band open to a possibility that had been repeatedly shot down: recording new At the Drive-In music. To the delight of their loyal fans, three years later in 2016, the bandmembers announced they were heading back into the studio and would embark on a reunion world tour. However, they would be one man short. In March, mere days before the trek began, Ward announced he was leaving the group. At the end of the year, At the Drive-In returned with the single "Governed by Contagions." Months later, they revealed the title of their fourth album, in•ter a•li•a (Rise Records). Due to Ward not featuring on the release, the group recruited the talents of former Sparta guitarist Keeley Davis to contribute. The record arrived in May 2017 and featured "Governed by Contagions" and "Incurably Innocent" as lead singles. Later that year, in the midst of touring, they issued their fifth EP, Diamanté.